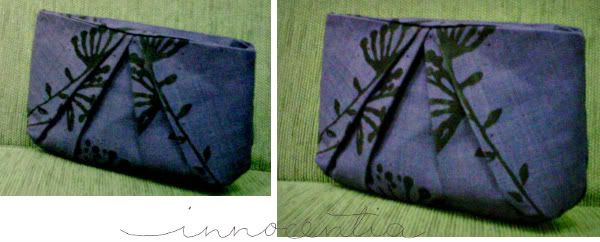 What's on my working table? (I don't have any sewing table, so my working table sometimes transforms into a sewing table too). My notebook usually fills the space, working papers, pencils (I have many because at the end of each day I always loose some of them), printer, and a dozen of documents. If I get a sewing mojo, my table will be full of, again, papers, pins, fabric scraps, my sewing toolbox, paper and fabric scraps (both on the table and on the floor).
And last monday I finally got started on this
Pleated Wrislet
using my old collection of
Inipolaku fabrics
. I'm pretty pleased with it, but it's without a strap,so I can't call it a wrislet afterall. I won't go into the long and boring story of all the steps I took to get this far, not to mention the mis-steps which are just plain embarrassing. Suffice to say that I feel the worst is behind me and I'm now well on my way.
The good news is that I do now can sew the zipper using my zipper foot. Not to mention my previous desperation of sewing zipper using my sewing machine
What's on your sewing table?
(I'm writing this post in a train that's taking me back to my hometown. For those of you who are waiting for Kimomo giveaway's announcement, I will publish the winners' names tomorrow)