Today I'm sharing an interview with Kiki Palar from Kimomo and hosting a giveaway for her. Kiki is a fabrics enthusiast and a crafter living in Jakarta. Her designs are both fresh and practical. I met her in facebook, a year ago, while I was browsing cute fabrics, and stumbled upon her pretty home decor collections and pretty fabrics. All photographs included in this interview are used with Kiki's permission.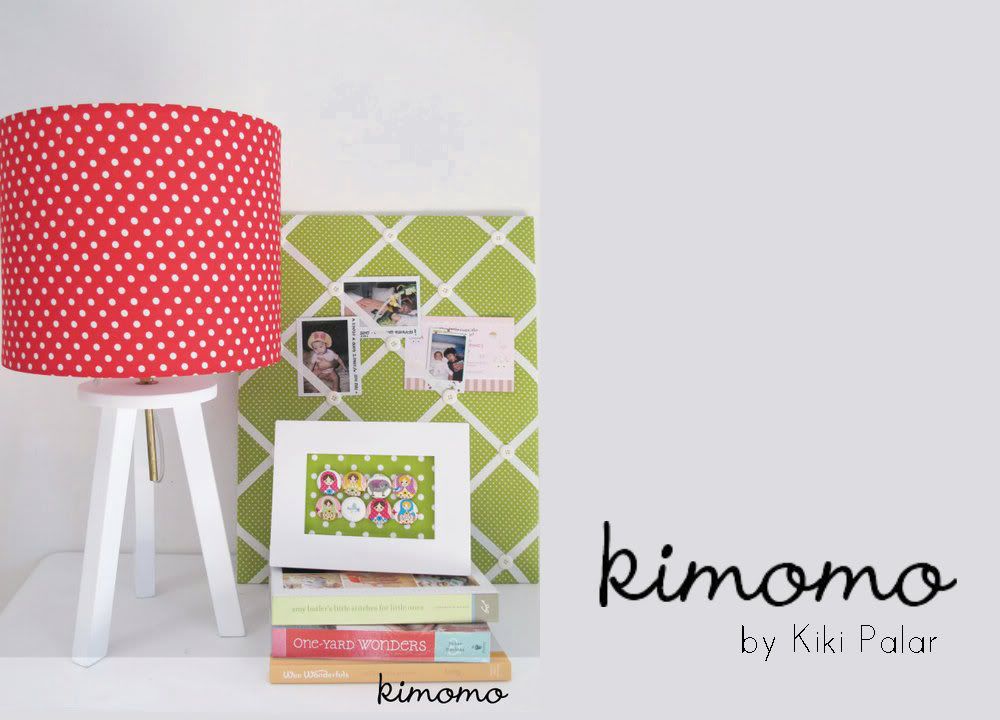 1.Your Crafty Business Name :
Kimomo
2.Where can we find you online?
https://www.facebook.com/kimomokimomo
3.When did your business begin and why did you started?
Kimomo started on April 2011 and it started simply because my love to fabrics. I looked at my stack of fabrics and figured that I can not keep on stacking without doing anything to it.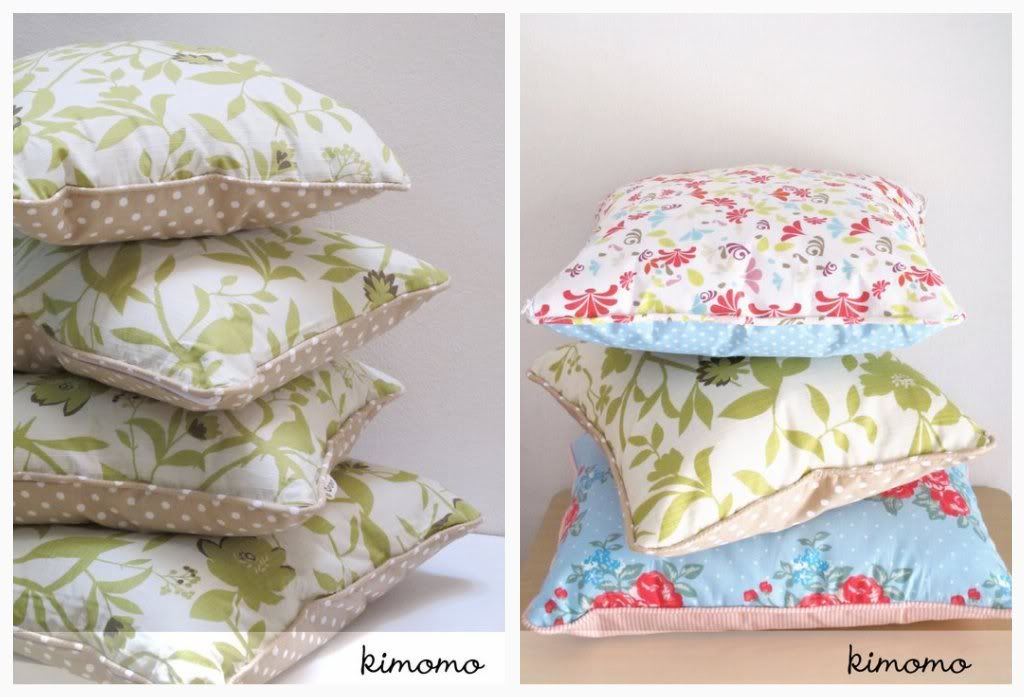 4.Tell us about your business
Basically Kimomo sells fabrics but we also do customization for cushions, lampshades, sofas and home decorating items.
At Kimomo, you can pick your own fabric to be later produce to these items. So if you're looking for a matching lamp and bedsheet, look no further
5.Describe your typical day
My typical day starts when my baby wakes up. I then prepared her meal etc and I sat on my laptop, replying emails and comments from customers and later on start sending packages. I take care of my baby daughter for the rest of the day and try to sneak in some sewing time in between her meal and nap time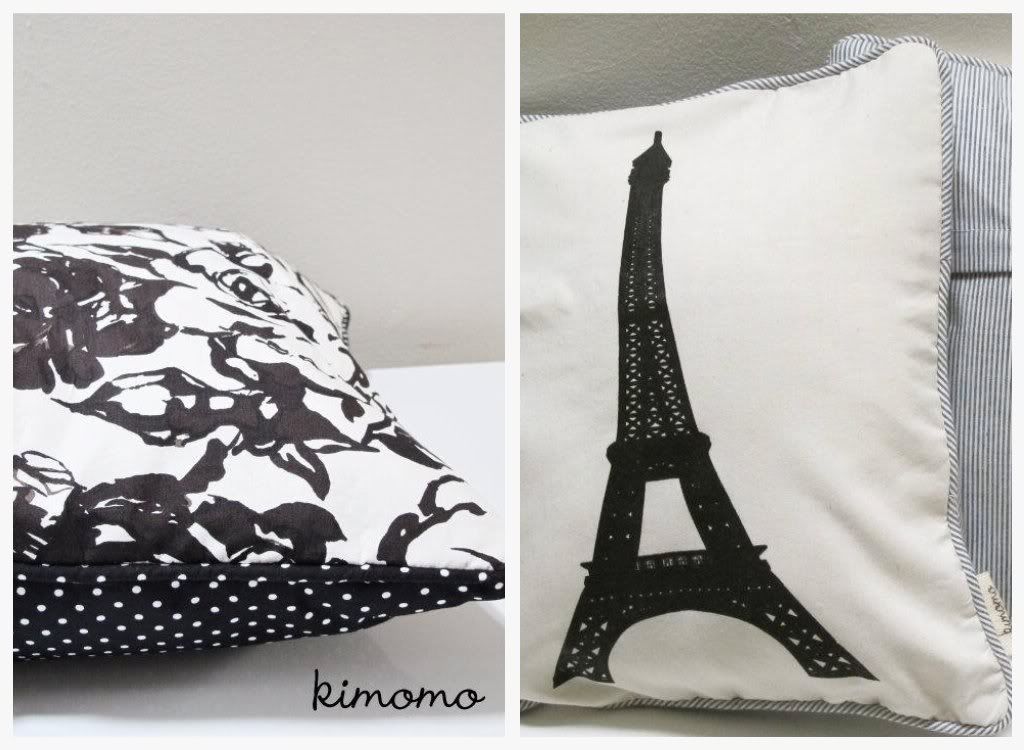 6.What keeps you motivated?
My customers usually motivate me the most. As simply as their thank you because they received the package or that they love the fabric, never fails to brighten my day. Some of them even kindly posted and shared what they make out of my fabric and to be able to provide the material for those creative people is one of the most amazing feeling I must say
7.What is the biggest challenge in your business?
I think the biggest challenge is to keep creating new items. What to make other than cushions, pin boards, etc. Another thing that is also challenging is to improved the business. How can I developed Kimomo, etc.
8.Any advice you would give to someone just starting a crafty business?
Make sure you love what you're doing then you'll be fine. Stop copying other people's creation and just believe in yourself. Everything starts small so do not worry to much about it at the beginning. And online business is very promising these days.
9.What do you love most about owning your own crafty business?
I love Kimomo the most because it lets me be with my baby all the time as well as fulfilling my creative side. The time flexibility is the most valuable thing that I can get from Kimomo. I also get to meet and make friends with lots of creative people in Indonesia and this experience is really valuable to me as these people always seize to impress and inspire me
10.Besides crafting, what do you love doing?
I love a good movie and I also love listening to good songs. Good music for me are songs with good lyrics as songs lyrics matters most for me (I know, weird.. hehe). I enjoyed watching concerts, theatrical performance even circus. But the end of the day the best feeling for me is to be able to just snuggle with your baby inside the blanket.
11.Where do you see your business in 10 years?
I hope I own a Kimomo retail store by then. Selling all those beautiful fabrics and items from creative people in Indonesia and helping to support local handmade. I hope in 10 years our society will appreciate local creations more. Crossing fingers... and hopefully in 10 years I will be meeting Citra again and tell her all the story all over again in Kimomo shop (amin).
I do hope so, Ms. Kiki..
And as my previous Monthly Spotlight, there are still giveaways for you, guys
Kimomo will give two pinboards for two Innocentia readers
How to win it ?
Like
Kimomo
==> Don't forget put a comment
in this post
stating that you want to enter this giveaway, put this giveaway button in your sidebar and include your email address in your comment <==
How to put this giveaway button on your sidebar :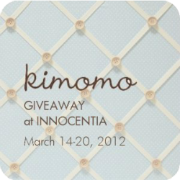 Click, copy and paste this code :

This giveaway is CLOSED
Important Note :
Due to the volume and the weight of the pinboards, I can only send those items for Indonesian residents only. Thus,
this giveaway is opened for Indonesian residents only
Thank you so much Kimomo for letting me write about it and being a sponsor for this March giveaway. And for you, my readers, go like Kimomo on Facebook, and good luck !!