My life has been in roller-coaster ride these past two weeks, so I really apologize for being late in posting the tutorial for the dress I made for Kids Clothes Week Challenge Day 1. First I got my first blogiversary, then I got news that my father was sick, again, I got moved from my current office, and finally a very bad news about the death of my cousin. Wow, aren't they too much ?
So here she is, the Leela Dress. I've been thought of a cuter name since the Day 1 of KCWC, but I got zero result. When I made a bigger version of the dress, I decided to make it using batik fabrics, and eventually, name "Leela" popped in my head. "Leela" means "playing" in Sanskrit. That name was on my list of baby girl's names when Zakiyya just had been born. And the name sounds so fit because the nature of the dress itself. It is actually a dress made for playing time
First version of the dress :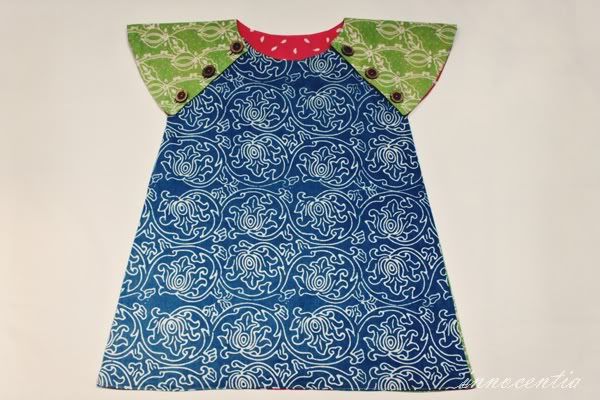 And the reverse version :
I couldn't take nicer photos of Zakiyya wearing the dress. I gave these photographs to show you how the dress looks like when it is worn. The sleeves form two elephant ears shapes, and they fall nicely, especially when you use light weight fabric.

Supplies :
What you need :
- Three or four different fabrics
- Contrasting fabrics
- Fusible interfacing
- 12 buttons
- Used papers for making patterns. You can also use newspaper, or photocopy papers which are taped together
- Tracing Papers
- Your daughter's dress or shirt for drafting your own patterns
- Scissors, pins, etc
How to Draft your pattern :
Prepare your paper and trace the front and the back neckline. Don't forget to mark the chest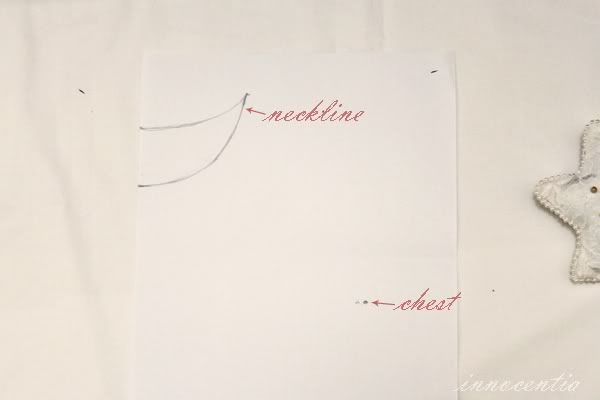 Above : The traced-neckline and chest


Trace the width and length of the dress. Make a line between the chest point to the bottom width of the dress


Now, make the shoulder and sleeves by making a straight line 9 or 10 cm from the neckline, less or more, according how long you want the shoulders should be. Make sure the shoulder line and the length of the dress forms a 90 degrees angle
Make an imaginary point at the angle, and make another straight line between the point and the chest. That will form a raglan sleeve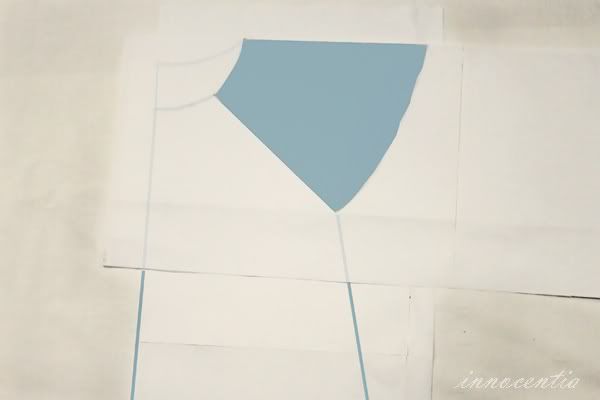 Put another sheet of paper and trace/mirror the shape of the raglan sleeve and cut the shape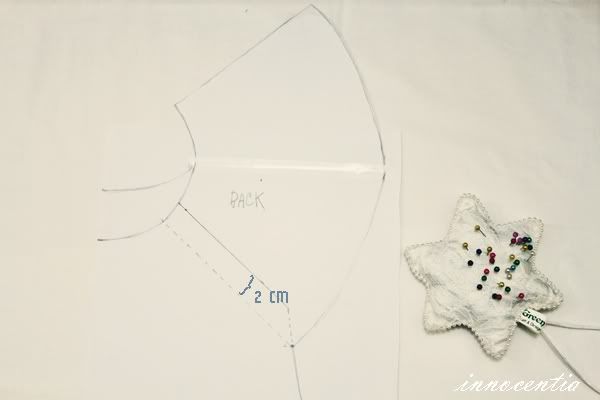 Put the tracing at the top of the sleeve. I merge the patterns using a sticky tape
Draft an extension line 2 cm from the raglan's line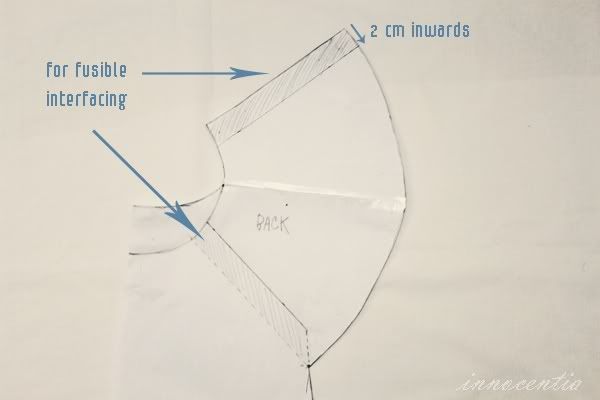 Draft another line 2 cm inwards from upper line of the patterns. Those parts are shaded to indicate places where you will iron the fusible interfacings on.

Note :
- I includes the front and the back pattern into one sheet. You can make the front and the back parts into two different sheets of paper

The next steps, including how to transfer the patterns and how to cut the fabrics, will be included in Part 2 of this sew-along. See you tomorrow !

Next Steps :
- Part 2 : Cutting
- Part 3 : Assembling & Finishing

This post has been included in some of these fabulous link parties