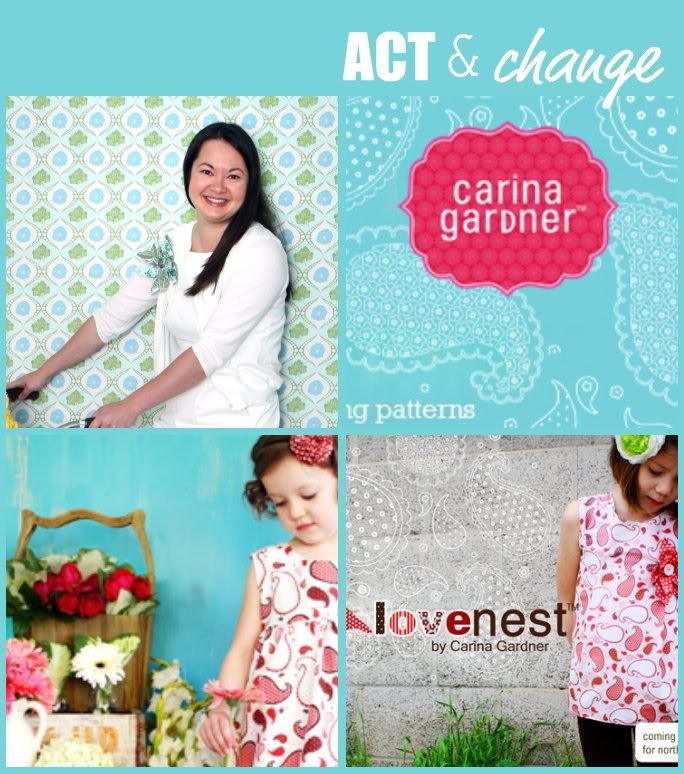 Let me introduce to my newest favorite designer, Carina Gardner. Carina has a Ph.D. in Design from the University of Minnesota. She has taught Graphic Design Foundations, Typography, Design Theory, and Packaging Design at the University of Minnesota. She left academics in 2008 to design full time and stay at home with her children.
Carina currently designs fabric (Coquette and Lovenest for Northcott), scrapbooking paper, and digital scrapbooking products. Her first line of sewing patterns debutes Spring 2011. She also teaches online Illustrator classes at Jessica Sprague.com. You can find her in her website : http://www.carinagardner.com/

Here are my interviews with Carina ...

1. Please tell us a bit about yourself, a mom, a wife, a Ph.D. in Design, teaching, paper designer, fabric designer, digital scrapbook designer, and now children clothing pattern designer. How do you maintain your time ?

I am usually pretty good at focusing in on what I am doing in the moment. If I'm playing with children, then that's where I am. If I am working on a paper pad, my eyes are glued to my computer screen. If I'm sewing, then Felicity is in my lap helping me. I don't know that I necessarily manage my time well...mostly I'm just putting out the fires that need to be put out the most. I think that is what all mothers are doing. I'm lucky in that my kids are super supportive of my work and spend a lot of time with me in my studio (usually begging for me to sew them baby doll dresses). Being in the crafting industry as a professional and a mom certainly has it's benefits!
2. I always like to ask how, when and where did you start sewing?

I think I was 8. I remember my mom letting me make my own Barbie clothing. I was obsessed with making really big puffy skirts with her scrap fabric. She showed me how to sew a loose stitch and to gather. Heavens knows how many times I broke her machine. My mom always had all sorts of craft projects going on. She hand quilts and she made some of my clothing. Being the oldest of six kids, I was usually along for the ride.

3. Please describe your design philosophy in a sentence or two

Design is about creating something beautiful, lovely, and functional. Design is a happy process that (amazingly enough) also creates happiness.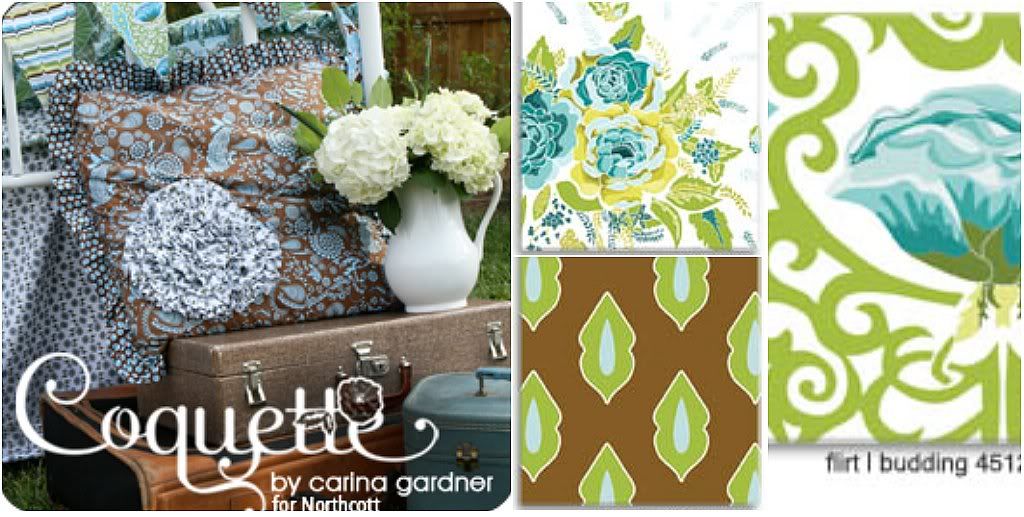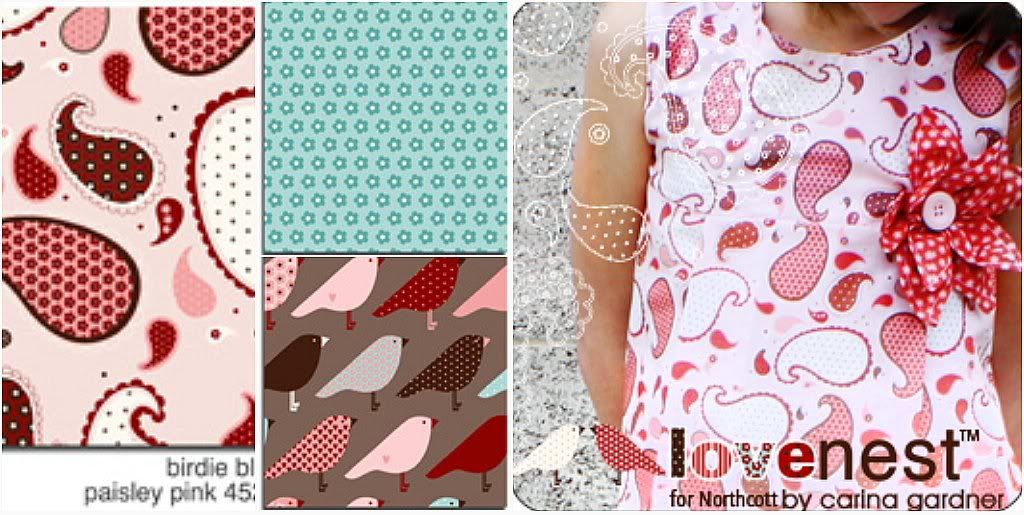 4. Where do you find your inspirations ?
My two little girls are probably the biggest source of inspiration. I love thinking about the fabric and clothing they could wear. I also draw inspiration from home magazines. I have a growing collection that keeps me up-to-date on color schemes and ideas.

5. Did you have a favorite outfit as a child? Are any of your patterns influenced by your own childhood clothing?

Oh my gosh, I WISH I had clothing like the ones I make now! Most of my childhood was spent in secondhand clothing (believe me it was not VINTAGE:)) and I find it a complete luxury to dress my children as I do. I think that I perhaps make clothing that I would have wanted as a child, but mostly I make clothing that I like my own children to wear.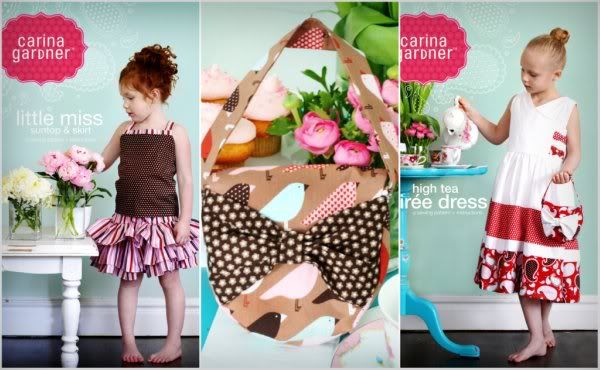 6. What are the differences between being a paper designer, fabric designer and pattern designer ? How did the challenges differ ?

With fabric, the illustrations are very clean. I spend a lot of time figuring out the details and deciding how I am going to make the illustrations repeat. With paper, I spend more time in building texture. Developing that deep grungy texture is not something they teach you in graphic design school. Being a pattern designer is fun because I get to spend so much time on my sewing machine! It's such a joy to be able to cut, rip, and sew until a garment fits just right. Each job has it's perks, but in really different ways.

And how are they challenging? For me, the third colorway of a fabric line always gives me issues. Getting it to work perfectly with the other two sometimes makes me a little crazy. I tell myself to walk away from the computer and come back. Paper is definitely the lest challenging medium for me only because I have been doing it the longest. I feel really comfortable and like to sit in front of the tv and go to it! Creating sewing patterns is by far the most challenging thing I have done so far. Working in the "3-D" has been an interesting change from fabric and paper. Oh ya, and children models...not the easiest to photograph!!!

7. From your blog, I read stories about your photoshots for the patterns. From your point of view, how important is "image" to a business like yours?

I think when it comes to the patterns, "image" is everything. I work just as hard on the packaging of the sewing patterns as I did on the pattern itself. We had to hold two of the photoshoots twice because we didn't get them right the first time. I think as a sewer, I like to buy a pattern that shows me exactly what I am going to make, but also gives me a warm feeling about what I am about to sew. I like buying a beautiful package and dreaming up the possibilities that the pattern may bring me. I think it is so rewarding to see your child wear something that you have made...and how happy and proud they are to wear it.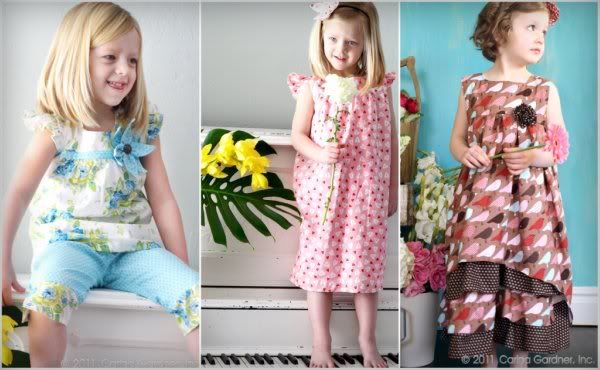 8. What things do you like to make other than clothes for your daughter? Do you still sew for yourself ?

I promised Siri I would make her a quilt. Felicity got the flag quilt (a free download on my blog), but I've been putting off making Siri's. I've made all the curtains in my house, and I have spent a lot of time slipcovering over the years.

9. What is your best advice for others who are contemplating changing their dreams into their bliss?

To go after it! That's doesn't mean quitting your day job...but it means finding the things that make you happy and going after those things. Oh, and dream big. If someone had told me I was going to finish a Ph.D. when I was 21, I would have laughed at them (I finished my doctorate when I was 27). Things change so quickly. You might as well dream big, because it would be much worse if you didn't try at all!

Wow ! Thank you so much Carina for sharing your experience, feelings and wisdoms. Don't forget that her new line of children sewing patterns has been launched last April. You can check them here. I can droll at their images for hours LOL

Image credits : Carina Gardner (www.carinagardner.com)