As usually I ended up on a project that I've never planned or thought before. At yesterday evening, I looked at my fabric scraps, and I thought "what a colourful scraps !! I should make something with this". Ooops.. I did it again :P This time I turn a woman T-shirt into a toddler shirt, with a twist !!

I haven't finish it :P
Tonight I must seam the apliques onto bias tape and sew it onto the shirt.Maybe I'll write a bunch of tutorial to make it

I must admit that I was inspired by my little sister's scallop apliqued Trafaluc shirt. I didn't have its photographs, even though I searched and searched (and googled and googled) I couldn't find something like that, so you can compare mine with the original scallop tee
This is the original T-shirt before being cut : (It is brand new and I never wear it because it is way too small. It only cost Rp. 10.000 = a buck)
I compared it with one of my girl's dresses to trace the line that I must cut. I didn't use any pattern, just eyeballing :)
Here is the dress after re-cut and re-sew
I cut some fabric scraps. Totally, I used 6 different fabrics to add whimsical touch.
Can you see ? The apliques are still pinned on the shirt :P
I'll update this post as soon as I finish it. Wish me good luck !!
This post has been linking up to :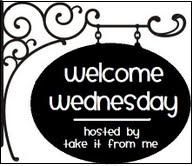 >